W
e honor all traditions and spiritual paths, from the old ways to the new age. We specialize in Pagan, Celtic, Wicca, Norse, Eastern and Western spiritualities. We carry a variety of crystals and stones, runes and pendulums,tarot and oracle decks. In addition to new and used books, we also offer store credit for select metaphysical books in good condition. We have in-store psychic readers available every day and offer a psychic fair with special rates on the last Sunday of every month. Check our
schedule page
for our calendar of new upcoming events.
We carry statuary and also affordable jewelry depicting Celtic, Norse and Pagan icons and deities as well as Eastern and Western gods and goddesses, angels and saints, fairies, dragons, inspirational, motivational, humorous and LGBT greeting cards, bumper stickers and window stickers, scarves and sarongs.You'll find a variety of bulk herbs for magickal use, as well as scented and daily use candles, mini candles and 7 day jar candles, Aloha Bay palm wax chakra, Feng Shui, and Aloha jar candles, magickal oils, amulets, and helpful spell books. Our selection of tumbled stones and crystals have drawn people to their energetic properties for healing and empowerment over the years. Our inventory is constantly changing and evolving. We hope you'll find us to be your one stop full service metaphysical supply shop. If we don't have what you're looking for, we'll do our best to help you find it!

Blue Eagle has the best selection of popular and esoteric incense, powders, cones and aromatherapy oils in New Mexico! We offer a broad selection of many brands of popular and deliciously scented incense sticks (packaged as well as by the stick), pure essential oils and aromatherapy oils, incense burners, aromatherapy diffusers and censors to transform (and enhance) your environment.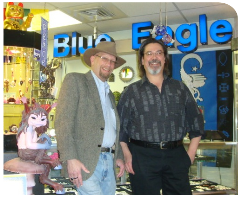 W
e hope you enjoy your visit with us on-line and look forward to meeting you at the store!
Blessings,
Mitch & Spencer