The Blue Eagle Book and Metaphysical Center was the vision and the result of Wesley Vincent's spiritual outreach, whose persistence paid off from his preliminary presence as a few bookcases of used books in Marilyn Whitehead's Psychic Center at 1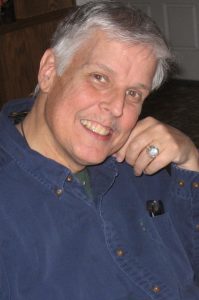 405 E. San Mateo NE. A customer recently presented us with a copy of the first newsletter from April 1986.  Wes wrote,
"This newsletter is the first of an ongoing series to keep associates and friends abreast of what's happening at the Psychic Center to increase public awareness and participation in alternative studies. The knowledge and talent of most practitioners is exceeded only by their willingness to share their gifts. However, most often the skills of a researcher and practitioner are not combined with the abilities of a Public Relations person, therefore the need for the Psychic Center. The Psychic Center strives to be the medium to bring querants and practitioners together to be the clearing house where knowledge and/or healing can be exchanged. However, the most valuable assets are the people associated with the Center. These practitioners are gifted, ethical and work hard at their crafts. The only other necessity is you. Whether your interest is focused or searching, new or well-established, you are needed and welcome".
Over three decades later, his mission has thrived and grown with the help of countless employees and volunteers, and after more locations than most people have ever been to, it's been my honor to follow in the same direction and to grow the business after twenty years with Wes's guidance and companionship. We lost Wes quite suddenly to liver cancer on July 10, 2007. I owe him a lifetime of gratitude for not only sharing his world with me, but for the vision he shared to the world. May his memory be a blessing and an inspiration to all of us. – Mitch